What's a Story Director? You might think of me as EndWar's resident Drama Queen. And though you'd be impugning my masculinity, you'd be right. Because I am all about drama.
Just ask any co-worker about my daily histrionics. There isn't a desk in this studio I haven't flipped over to punctuate an opinion, a coffee mug I haven't hurled against a wall, a blood-curdling scream that hasn't vomited forth from my frothing lips, a firearm I haven't discharged at the studio's now-porous ceiling or, alternately--if I really needed to emphasize a point with a recalcitrant colleague--aimed dead-eye at the center of his or her body mass while coldly intoning the challenge, "You sure about that?" Hey, if I'm going to be EndWar's Drama Queen, that doesn't mean I have to be a sissy about it. And despite all the talk of "dangerous manic behavior" and restraining orders, I think my colleagues welcome the passion I bring to my work.
As EndWar's Story Director, that work is to champion the values of interactive drama at every level of the game. And that's plenty enough to get me out of bed and into the studio every morning, because it's something I do care about--deeply. What I love most about games is their ability to transport me to another place, to immerse me in the role of a character who faces compelling challenges. So while the game's massive script is my #1 responsibility, it's also my job (i.e., sacred duty) to advocate for player immersion in gameplay design, level design, art design, data storage, the kitchen sink, you name it. In actuality this input takes the form of polite emails and conversations or spirited but friendly debates with EndWar's immensely talented game, level, and art designers and engineers, all of whom know a lot more about how to do their jobs than I do, so maybe my introductory paragraph exaggerated the forcefulness of my communication style a bit. But don't for a second think that I'm not all about drama. Because I am. I am.
What will my fixation on drama offer for you, a player of EndWar? I'm glad I asked that question.
Even before I joined this project nearly two years ago, EndWar's creative director/evil genius Michael de Plater had conceived of the game as a hybrid RTS/RPG. The game would be about a Third World War, but it wouldn't put the player in the impersonal, distanced role of a global commander, a la Civilization. True to Clancy, the game would explore a massive, world-wide conflagration close-up and tactical--at a human scale.
Remember that game script I mentioned, the one I called my #1 responsibility? It numbers over 25,000 spoken lines, about the same size of a BioWare RPG like Mass Effect. But only about 1000 of those lines are devoted to telling "Our Story"-- a nine-mission linear campaign that will have you switching between all three factions and directly participating in the events that touch off The Big One. The other 96% of EndWar's script? That's all there to tell Your Story--your unique War Story as the commander of an elite battalion in the War That Ends All Wars.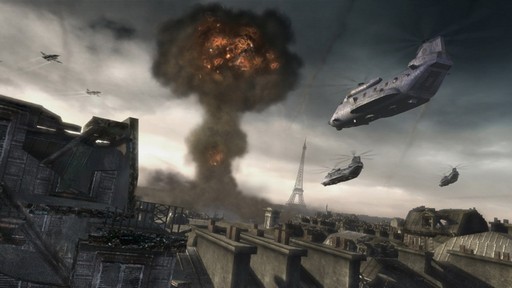 Like I was saying, EndWar doesn't put you in the god-like position of a supreme commander. You're not an Eisenhower concerned with logistics--you're a Patton concerned with kicking ass on the battlefield, in charge of an elite outfit comprised of 1000-1200 human beings. And whether you're playing single-player or the massively-multiplayer Theater of War, your play experience is going to tell the story of your military career in the Third World War--to what degree you've distinguished yourself as a commander or failed to do so, and also the fate of all the fighting men and women who served at your command. There is no set path to victory or defeat. Once those "Our Story" missions I mentioned have brought you over the brink into the Third World War, there's nothing linear about EndWar, nothing predictable.
Accordingly, the game's dialog systems had to be designed to account for every possible situation you might get your battalion into. And that's why we've ended up with more than 24,000 lines of dynamically-triggered, AI-driven dialog. All so the game can reflect your unique story, off the battlefield and on it.
Between battles, you're going to hear your commanding officer describe the state of the war across the Atlantic theater, and before every battle you're going to receive a briefing that reflects your mission, your reputation, the enemy commander you're going to fight, your record against that commander, and whether your faction is winning or losing the war. All dynamically-generated.
During battles, your executive officer's play-by-play tactical commentary is going to amplify your situational awareness and alert you to opportunities or threats you would have otherwise missed. And you're going to hear the leaders of the platoon-sized units under your command not just respond to every order, but alert you to changing conditions on the battlefield. These units are persistent--they can survive and improve from battle to battle long as you watch out for them. You'll get to know them by call signs like "Killshot" and "Iceman" and actually hear the difference as they go from green raw scalps to die-hard veterans.
Down where the action is, you're going to hear thousands of lines of chatter--all the stuff the enlisted soldiers say to each other. This dialog morphs according to the conditions a unit is experiencing. Before they get in the sh*t, you'll hear them psyching themselves up, or telling jokes to bleed off tension, or remembering some detail of life back home they miss. When they sight the enemy, you'll feel the change in attitude as they prepare for action. And what you hear in combat will depend on dozens of factors: whether they're winning or losing, whether they're getting hit by small arms fire or explosive ordinance, what sort of target they've engaged, their morale, their experience, etc., etc., etc.
It's all to serve Drama. That's the point of all the writing and recording and testing and rewriting: to immerse you in your role as an elite commander in the year 2020 by furnishing your personal war story with the supporting cast it needs, whether above you (commanding officers), at your side (your executive officer) and under your command (all those unit officers and enlisted soldiers in the ground). This is your War story. How it Ends is up to you.
John Gonzalez
Story Director
Ubisoft (Shanghai)